You're My Jailbait Bella Bambina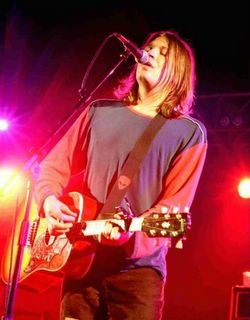 Live at the Brattle Theatre
Evan Dando - Thirteen (Live)
Evan Dando - The Turnpike Down (Live)
Paul Hester Tribute
Crowded House - My Telly's Gone Bung
Wow it seems that my linkage is bringing in more sheep to my flock. Which would make me a shepherd - something that I'm more than comfortable with. I think the necessary beard and crook ensemble would suit me. Thanks
Silence is a Rhythm Too
and
My Old Kentucky Blog
- both upstanding members of the blog community.
On today's menu, we have two live delicacies from the ex-junkie drag queen of Indie, the lovely Evan Dando, both taken off his Aussie import live album, 'Live at the Brattle Theatre/Griffin Sunset EP'. The EP is a handful of acoustic country/folk covers with tips of the hat to Townes Van Vandt, John Prine and Tim Hardin. Despite its production sometimes making it sound like the man is singing in a large damp cave I enjoy it muchly and thus was disappointed to learn that I'd left it up at Uni. Damnation! The live album, on the other hand, has been a large influence on my musical learning curve despite its brevity. Let's just say that I'd never heard any Big Star or owned any Lemonheads albums before. 'Nuff said about that really.
I am rather tired after a heavy day of compiling an 27th Anniversary CD as a present for my parents and for some stupid reason decided that each track had to come from a different year that they'd been together. 1987 gave me a rather large headache and the whole reaching for CDs in far flung places strained my back. Ha! Hence, the shortnature of this post. I wish only to state that the Paul Hester post is my last word on the subject. I've said my piece and I'm sure there's a lot more people who can say more eloquent and insightful things than I about him. Oooh, I should add that you shoud all go and buy
Woodface
if you don't already own it and then put on 'Italian Plastic' in honour of a great songwriter (despite his disability of being a drummer).
Buy -
Evan Dando - Live at the Brattle Theatre
Buy -
Crowded House - Afterglow