Blue Eyed, Soul Minded and Electronic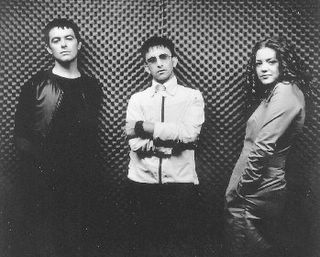 The Lightning Seeds - Sweetest Soul Sensations
The Lightning Seeds - I Wish I Was In Love
Well, today, children we're going to take a trip down memory lane to one of the first albums that I
ever
bought (sometime in 2000 - I was a late bloomer) by Scouse legend Ian Broudie and his "band", the Lightning Seeds (no more than a vehicle for Broudie to function through more than likely due to his shyness) called Tilt. The album, the last that the Seeds made, and the last that Broudie himself recorded until last year is an electro-pop gem that if I was really lazy I'd term a "poppier Pet Shop Boys with more soulful vocals than Tennant's monotone" and guess what! I am lazy so that's how I will describe it.
I popped it on my stereo before going to bed last night, after a failed attempt to plod through Electric Soft Parade's second outing, after two years of neglect and although it is as bitty as I remember, tailing off significantly towards the end, it is an excellent album. The opener 'Life's Too Short' is a pure pop gem that should be treasured in its rarity, 'Cigarettes and Lies' is blessed with a lyric as sharp as its melody and 'City Bright Stars' is a pretty bloody good collaboration with Babybird AKA Stephen Jones.
However, two tracks really stick out, maybe because I'm finally smart enough to understand the joke that Broudie's telling with them or due to their simple greatness, and I've uploaded both for your pleasure. The first 'Sweeter Soul Sensations' is beautiful with its sampling of Al Green's 'Simply Beautiful' with Broudie looking to either disguise or jokingly compare his vocal range (something that he's famously always hated) with that of a man adorned with some of the best pipes I will probably ever hear. Broudie holds up too providing an excellent foil to Green's unintelligble groans which is really saying something especially for a Scouser. Secondly, 'I Wish I Was In Love' is a not so subtle reworking of Fleetwood Mac's 'Man of the World' stealing it's title from that particular song's wonderful final line. The song suits him too with his vulnerable and worn vocal style matching well with that of Peter Green's and his bittersweet rather than saccharine words a more than worthy replacement.
Since the album, Broudie has gone on to produce the Coral's three albums, excellent Scouse upstarts The Zutons (as one one wag said "There's only one producer in Liverpool") and I am Kloot. He's also getting bucketloads of royalties off rubbish football compilations for his anthem 'Football's Coming Home' and I pray to God that we never have to see him with his stupid fucking sunglasses on pissing about on whatever replaced Top of the Pops with has beens David Baddiel and Frank Skinner.
By the way, the album is 98p on Amazon UK's Marketplace so go buy it. It's more than worth it despite the crapness of 'Happy Satellite' and 'Crowdpleaser'. Also, I picked it up originally following a Q Best of Year Poll. So Q nor idiotically meaningless polls can be all that bad after all.
Buy -
The Lightning Seeds - Tilt

Visit -
Ian Broudie