Cheatin' Woman Bourbon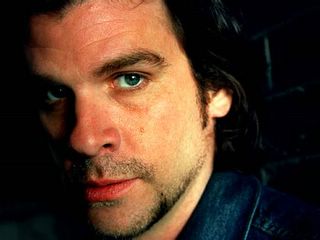 Tex Perkins - Fine Mess
Tex Perkins - I Know, Y'know, I Know
Tex Perkins - A Name on Everyone
Wow, this post is really breaking some boundaries! It's the Finalist but not as we know it. Not only are seeing three songs that will no doubt spank the monkey that is my bandwidth (hah! egotism is fun) but they're from two separate albums! Count them. Well obviously you can't as I haven't given you any form of indicator up to this point but trust me.
So who is this Tex Perkins bloke I hear you say... well not if you're one of our many antipodean neighbours (G'day, by the way) as he was the rather charismatic and, still is in some cases I believe, frontman of The Cruel Sea and The Beasts of Bourbon. Both of these bands were pretty good proponents of Aussie Rock with the Cruel Sea having a rather exotic surf rock edge to them that enamoured me with them a little bit especially the classic 'The Honeymoon is Over' which I sadly don't have with me at the parental abode.
Tex, although a "dead-set legend" is also a bit of a prat or at least I've thought so since seeing footage of him exiting a
The Filth and the Fury
preview screening and stating that he'd never heard of The Sex Pistols before. Despite this, post-Cruel Sea he's set about constructing minimalist acoustic blues albums with his band Dark Horses. 'Fine Mess' and 'I Know, Y'Know, I Know' are taken off their debut 'Dark Horses' and 'A Name for Everyone' off the follow-up 'Sweet Nothing'.
'Dark Horses' is a personal favourite of mine not only due to the fact that I've had it for four years but also because I bought in on the strength of one song and thus it was my first of many great impulse buys. Nothing on this earth beats taking a chance on an album, the ensuing anticipation as you make your way home flicking through the liner notes and being finally rewarded when you stick it in the stereo. I still remember sitting on the train going home with
Five Leaves Left
in my eager hands, reading through the lyrics, and then my jaw dropping when 'Three Hours' kicked in with its bongos. I love bongos.
Yet, I digress. Life on Planet Tom is still good although my body clock has been screwed up by long sessions on The Sims 2: University and Leisure Suit Larry: Magna Cum Laude. My essay as a result is still not past the 2000 word mark but hopefully all will be done by tomorrow night but I sincerely doubt it. Also, the Kleptones'
A Night at the Hip-Hopera
album has finally officially got on my proverbial tits.
DJ Z-Trip
's 'Uneasy Listening', on the other hand, grows from strength to strength. Check out the Motown mash-up on his site!
Note: Was just reminded of the news that I heard this morning of the
suicide
of Paul Hester, the drummer of Crowded House. This has certainly saddened me mainly due to my always remembering Paul having this sheer energy whenever I saw him play. Never did I see him without a big grin on his face and maybe that made the news all the more shocking. Right, I think I'm going to go lie in the room with the lights off and listen to 'Together Alone' *sigh*.
Buy -
Dark Horses
Buy -
Sweet Nothing
Visit -
Tex Perkins