Wobbly Legs and Bleeding Hearts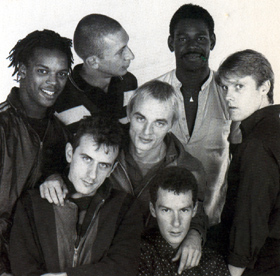 The (English) Beat - Save It For Later
The (English) Beat - Too Nice to Talk To
First things first. Thank you Paul Shrug for adding me to your links on your wonderful blog,
We're Here to Help You Thru Yr Changes
, the only music blog I've seen yet to release some Todd Rundgren into the masses (something that I'll be doing myself soon in the future). You've multiplied my previous readership by double figures... not that they'll stay too long.
Now coming back to the angelic faces pictured above this garbage.. they are, in my opinion, the second best Ska Revival band to emerge in the wake of the Specials, just behind the pure pop bliss of Madness, The Beat (or The English Beat as they are known across the Atlantic).
The wobbly legs of the title refers to the "erratic" dancing styles of Andy Cox and David Steele, the band's guitarist and bassists, who would famously take their buckled knees and jutting shoulders into the videos of their later group with the golden voiced Roland Gift, The Fine Young Cannibals. The bleeding hearts to the Beat's sometimes heavily politicised lyrics, most poignantly in their song 'Stand Down Margaret', referring of course to a certain Mrs Thatcher.
These two tracks, however, are about girls as all truely brilliant songs are (or at least i think they are) and are taken off their second and third albums, 'Wha'ppen?' and 'Special Beat Service' that saw the band move away from the basic ska template set down down by their debut album 'I Just Can't Stop It' to a slightly darker but yet more pop-orientated sound. Albeit, many contend that their debut is a classic and from the cuts that I've heard I'd be inclined to agree.
'Save It For Later' is covered by Pete Townshend on
Coverville
's latest podcast which is pure coincidence I assure you but check it out. I haven't done so yet but I'm sure the fool finds a way to butcher it. Oh, the cynicism! I'm sorry but I still can't forgive him for the abomination that is 'Face the Face'. Abysmal.
In the world of me, I have returned home for the holidays to revise and am already missing the drinking, friends and cuddles that go with University life but I'm surviving and enjoying the fact that I can upload pictures without the aid of Flickr here. Take that University firewall! But now, I'm off for sustenance and good quality "puppy time" better known as procrastination from revision.
Afterthought: Have just listened to the Pete Townshend version and it's actually I lovely and subdued live version with an excellent outro with some improvised bittersweet lyrics. I apologise Pete and urge you guys to have a listen.
Buy -
The (English) Beat - Beat This!
Visit -
The Beat UK