It's Arty And It Rocks... What Should We Call It?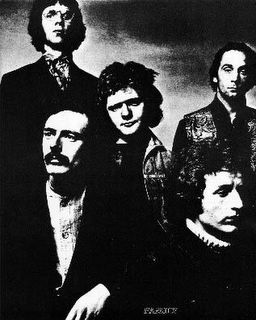 Family - Bandstand
Family - Burlesque
Family - My Friend The Sun
Family - BBC Radio Volume 1 (1968-69)
Family - I Sing Um The Way I Feel (Live)
Family - No Mule's Fool (Live)
I promised you post-prog and here it is! Well... it's blues-rock labelled as prog but it'll have to do. I'd love to give you a long treatise surrounding the history of Family but that would require research and hard work so I'll give you a little sketch instead.
Family recorded six albums between 1968 and 1973 from the whimsical art rock of 'Music in a Doll's House' towards a more conventional blues rock sound style on their penultimate album 'Bandstand'. I've uploaded two songs off 'Bandstand', in 'Burlesque' and 'My Friend The Sun'. The first of which featuring Roger Chapman's superb gravel toned voice (a rock voice almost parallel to that of Rodgers or Stewart) and John Whitney's tight riffing whilst the second should have been a classic with its delightful lyric and pastoral acoustic musical direction.
The second duo of songs is taken off a BBC compilation with 'Sing Um...' a cover of J.B. Lenoir, unavailable on any other CD, which starts normally enough and then transforms into a beast best turned up to 11 with a rather proggy guitar run. 'No Mule's Fool' shows the musical complexity of Family and how they somehow managed to transfer it to their live act something that has to be praised.
Although, Family shared common ground with bands like Traffic (whose bassist and taker of infrequent hiatuses Dave Mason produced their debut and Family bassist Ric Grech would become a member of Traffic following Mason's permanent departure), Ten Years After and Blind Faith (Ric Grech, yet again, was a member although everyone ignores his importance in favour of Clapton, Winwood and Baker) they seem to be largely forgotten nowadays. Hopefully, these songs will change that for at least one person out there in the magical land of the intermaweb. I mean if Be Bop Deluxe can have a resurgence then why not Family?
Love, luck and lollipops to you all and may the lovely music soothe your sinful souls.
Buy -
Bandstand
Buy -
BBC Radio Volume 1 (1968-69)