Neanderthal Men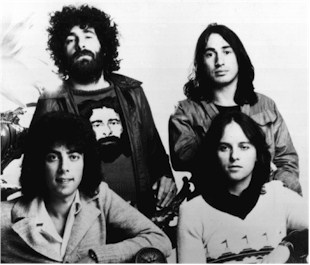 10cc - 10cc
10cc - The Dean and I
10cc - The Original Soundtrack
10cc - Blackmail
10cc - How Dare You!
10cc - Don't Hang Up

Godley & Creme
Godley & Creme - Wedding Bells
Now we're really getting into some interesting territory with a genre not often investigated by music blogs - Dad Rock! Yes, it's the four lovable art rock scamps from Manchester, 10cc, and their wonderful brand of "We're so much cleverer than you! Nerr Nerr" pop.
Famously signed/discovered by Johnathan "kiddy fiddler" (can I say that? well I just did) King and subsequently name after the average amount of semen in a man's ejaculation. Graham Gouldman had been a songwriter for groups like the Hollies (the wonderful 'Bus Stop') and Herman's Hermits, Eric Stewart had been with Wayne Fontana and the Mindbenders whilst Kevin Godley and Lol Creme would rather degoratorily be referred to as Britain's "Frank Zappa".
All of them are extremely talented multi-instrumentalists and this is immediately apparent in their complex arrangements and frequent changes in style and tempo mid-song. Both 'Don't Hang Up' and 'The Dean and I' show this in spades and as a result are in my top twenty favourite songs of all time.
The group's first four albums before Godley and Creme broke away are essential purchases with my personal favourite being their eponymous debut with its Jan and Dean/Shelley Fabares pastiche 'Johnny, Don't Do It', the hilarious infomerial 'Sand in My Face' and the song that the doo wop song, that my Dad thought was sang by a woman until he saw the band on TOTP so convincing was Lol's falsetto, 'Donna'. Past those four and you get into rather dodgy territory although there was still gold in them hills with great singles like 'Dreadlock Holiday' and 'Good Morning Judge'.
Of course, the band are best known for material off The Original Soundtrack such as 'I'm Not in Love', 'Life is a Minestrone'and the three part 'Une Nuit in Paris'. Godley and Creme also had a huge hit in 'Cry' thanks not only to its sheer wonderfulness but also one of the greatest and certainly one of the most innovative videos of all time that Michael Jackson ripped off for 'Black and White'. I didn't upload 'Cry' as I thought it may be overly familiar to some of you so instead you get the exquisite 'Wedding Bells'.
Godley and Creme as a duo are a strange entity with their debut 'Consequences' called one of the most overblown piles of prog rock bollocks upon the planet due to their utilising it as a vehicle for full use of their invention, the 'Gizmo'. Most of they're material has be reissued in twofers with
Freeze Frame/Ismism
a particularly good set.
Thanks
Tuning
for linking me, by the way, and adios for now, hombres. More post-prog next post hopefully.
Buy -
10cc - Good News: An Introduction to...