That'll Teach You To Be a Teetotal Vegan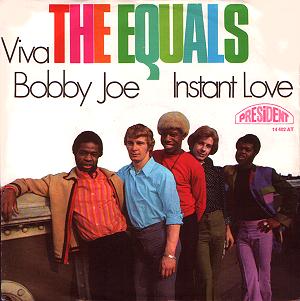 The Equals - First Among Equals (Ice Records, 1994)
The Equals - Viva Bobby Joe
The Equals - Police on my Back
The Equals - Honey Bee
The Equals - Diversion
Dum dum dum, Electric Avenue, gonna take you higher! Yes it's Eddy Grant's old mod-funk outfit from the 60s The Equals! Yum. To be honest, I don;t know too much about these London boys due to the otherwise brilliant double CD retrospective, First Among Equal's rather awful line-notes totalling two meagre pages focusing on Grant's post-Equals career.
Admittedly, the band were scattershot to say the least but they did have some pearls (that you'll have to track down yourselves) such as the hits 'Baby Come Back' and 'Black Skin Blue Eyed Boys' and other tracks like 'Michael and His Slipper Tree', ' Softly Softly', 'Soul Brother Clifford' and 'You Got Too Many Boyfriends'. The ones I've featured for your significant pleasure include the anthemic yet very silly hit single 'Viva Bobby Joe' with its violins that The Jam must have somehow been influenced by with songs like 'Smithers Jones'. The rasping organ parts in 'Diversion' and 'Honey Bee' accompanied by fantastic performances on the mike by Grant create two extremely enjoyable and danceable cuts. The politically charged 'Police on my Back' would later become famous when the Clash covered it on the "eclectic" 'Sandinista' and did a bloody good job of it too.
The Equals are quintessentially English, both lyrically and stylistically, yet funky too - creating a cross between the Moody Blues, the Kinks, various elements of Mod Culture and James Brown. Nice. I got into the Equals thanks to the rather good
Number One Songs in Heaven
. The page is
here.
Oh, other news: more revision for exams (but I still find time for you aren't I sweet?), my girlfriend likes 'Angels Want to Wear My Red Shoes' which leaves me elated, 'Chantilly Lace' and The Sonics are constantly on my Winamp playlist and I am very tired. I love you all as if you were my small furry ultra-dependent kin. And that's goodnight from me and that's goonight from him.
Buy -
The Equals
Visit -
Eddy Grant at Ice